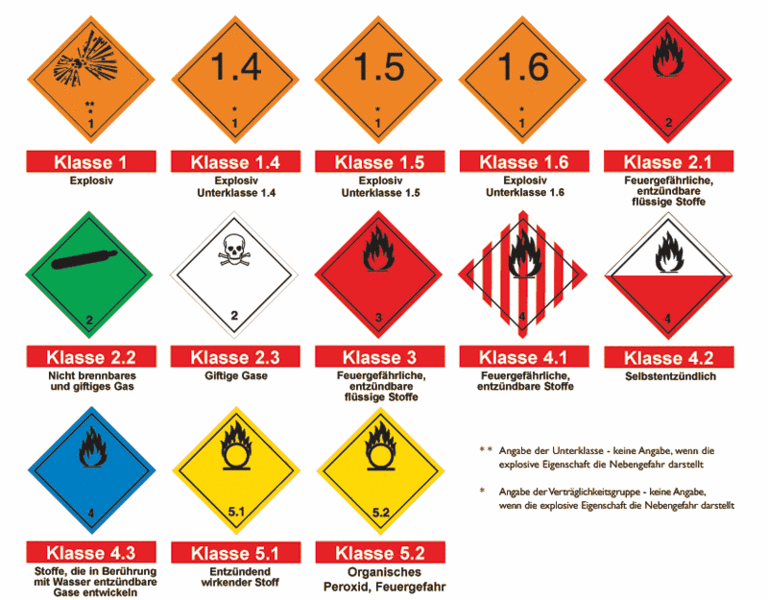 Transporting hazardous goods (ADR) requires the highest qualification and guarantees that the customers' goods will not be damaged. Special transport and skilled drivers are chosen for transportation of such nature of goods as well as extra attention is given to the course of works.
HAZARDOUS FREIGHT (ADR)
We provide the services of hazardous (ADR) freight transportation.  We are experienced in freight transportation of 2, 3, 4, 5, 6, 8, 9 hazard classes.
The group of hazardous freights includes the goods which may cause illnesses, poisoning, burn, explosion, fire during its transportation or storage, as well as condition damage of other freights, buildings and equipment or pollute environment. We arrange individual routes for hazardous freights, monitor freight movement, reload, packaging requirements etc.
Transportation and storage of hazardous freights requires relevant precautionary measures. Our vehicles are adapted for transportation of hazardous freights. The drivers have certificates for transportation of hazardous freights and attend special courses to improve their knowedge and skills.
Local and international hazardous freights are transported in compliance with provisions of the European Agreement concerning the International Carriage of Dangerous Goods by Road (ADR).
We deal with full truck load (FTL) and less than truck load (LTL) shipment of the following hazardous freights:
| | |
| --- | --- |
| Hazard classes | Freight type |
| 2 | Gases |
| 3 | Flammable liquids |
| 4 | Flammable solid materials |
| 5 | Oxidizing materials |
| 6 | Toxic materials |
| 8 | Corrosive materials |
| 9 | Other hazardous materials |