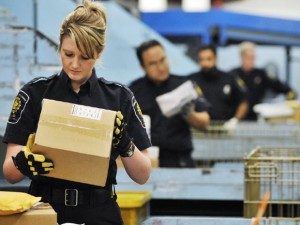 Our proven customs brokerage and international trade experience make us the global provider to turn to when you want a single, trusted source for your customs brokerage needs.
Our solutions can handle your global logistics and manage your customs brokerage and international trade services, all with the goal of streamlining your supply chain.
Our experienced team of customs brokers will ensure prompt and professional customs clearance of all required documents, will represent Your company at the customs posts, phytosanitary and veterinary authorities in Lithuania and – through the wide network of our partners – almost in all EU countries, Belarus and Russia.
Services provided in the customs warehouses 
Temporary and long-term cargo storage in indoor facilities or open secured cargo yards;
Manual and mechanised cargo handling;
Sorting, weighing and packaging of goods;
Obtaining of phyto-sanitary, veterinary certificates and certificates of origin;
Declaration of goods;
Representation during cargo inspection;
Representation at the customs;
Processing of Single Administrative Document (SAD) for import, export, transit procedures;
Issue of guarantee for import and transit procedures
What is a Customs broker?
Customs brokers are private individuals, partnerships, associations or corporations licensed, regulated and empowered by Customs and Border Protection (CBP) to assist importers and exporters in meeting Federal requirements governing imports and exports. Brokers submit necessary information and appropriate payments to CBP on behalf of their clients and charge them a fee for this service.
Brokers must have expertise in the entry procedures, admissibility requirements, classification, valuation, and the rates of duty and applicable taxes and fees for imported merchandise.
What about Customs brokerages?
Corporations, partnerships and associations must have a broker license to transact Customs business. Each of these businesses must have at least one individually licensed officer, partner or associate to qualify the company's license. Failure to have a qualifying officer or member (of a partnership) for more than 120 days will result in the revocation of the broker license.